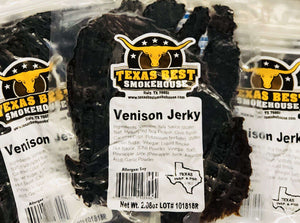 Customer Reviews
Write a Review
Ask a Question
Awesome!
This was a gift for my son and he loves it. Great quality and sonic fast shipping. Many thanks!
Venison Jerky
Venison Jerky was overall good. There was a little more pepper than I like. My wife thought it was great.
Packaging/ Venison jerky
First off, my jar of bread and butter pickles was broke, when it was delivered. Basil was gonna leave a jar on the table when I got there this morning, Well, he must have forgotten. I love the venison jerky, as well as the Bison! Wish I could make it at home, cause I'd have a steady diet of both!
Wanted to compare to my jerky
The venison is really good. I make jerky myself and i think i can do some tweaking. Great recipe.